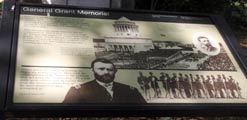 The General Grant National Memorial, commonly called
Grant's Tomb
: The resting place of and monument to
Ulysses S. Grant
, commanding General of the US Army in the Civil War and two-term President, in
Riverside Park
at West 123rd Street, the largest mausoleum in America according to the National Park Service sign at the site (
click image
). Completed in 1897. By 1935 it was badly in need of repairs. A New York City Parks Department press release of October 7, 1937[2] says:
On October 15th, work in connection with the renovation of Grant's Tomb, which was dedicated in 1897, will be completed by the monument restoration group of the Park Department. The entire interior has been cleaned and worn floors and broken carved marble have been restored. The exterior of the structure has been waterproofed.
Moreover, the Grant's Tomb website[3] itelf notes that:
In 1938 ... a number of developments were pursued with support of the WPA:

Installation of busts in the crypt depicting Grant's most esteemed lieutenants during the Civil War.
Artist Dean Fausett paints murals in both reliquary rooms featuring allegorical figures and the Civil War theater, with locations of Grant's battles highlighted.
Re-landscaping and modifying of the surrounding plaza.
Ralph Gardner writes in the Wall Street Journal:
The tomb, designed by John Duncan and based on an ancient Greek mausoleum, is relatively stark without being