Misc Virginia PWA Projects - Photo #2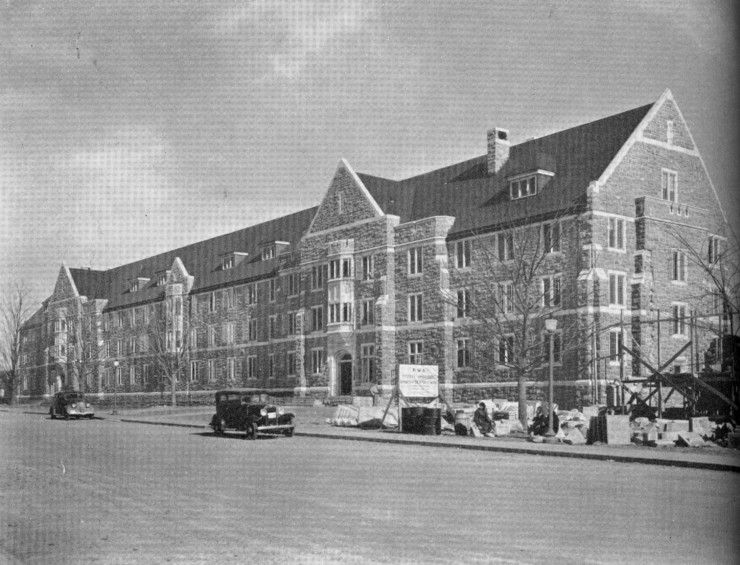 Dormitory, Virginia Polytechnic Institute, Blacksburg, Virginia. "Virginia Polytechnic Institute undertook an extensive building program with the aid of P.W.A. It included the students' dormitory, a utilities building, and a teaching and administrative building. The four structures were let on one contract and were built at the same time."[1] Plus at least one other on a separate contract, the
Student Activities Building
. According to [3]:
At Virginia Polytechnic Institute in Blacksburg, Va., a widely diversified group of buildings were made possible by an allotment of $2,069,338. These structures included two dormitories; administration and utilities buildings; four buildings of classrooms; and improvements to waterworks, heating plant, and sewerage facilities.
References
Short, C.W., and R. Stanley Brown, Public Buildings, A Survey of Architecture of Projects Constructed by Federal and Other Governmental Bodies between the Years 1933 and 1939 with the Assistance of the Public Works Administration, United States Government Printing Office, Washington (1939), page 274.
Public Works Administration Dockets for Virginia 1934-1939, 3 January 1940: Docket Number 1790.
America Builds: The Record of the PWA, Public Works Administration, Division of Information, United States Government Printing Office, Washington DC (1939).
---
Photos from C.W. Short, U.S. Federal Works Agency Public Buildings (1939).