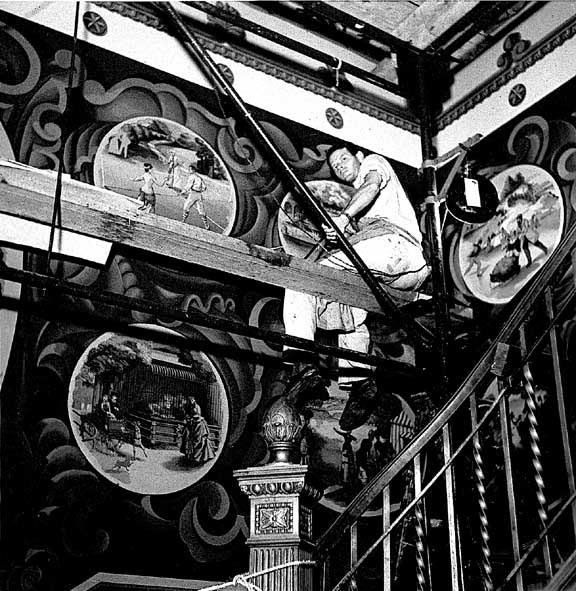 Photo: NYC Parks Department
Floor-to-ceiling murals in the
Arsenal
lobby by Allen Saalburg (1899-1987). This panel at the north end of the room shows Civil War scenes.
"In 1935-36 the Arsenal lobby murals were painted under the direction of Allen Saalburg. Saalburg depicted a series of scenes depicting recreational activities, notable park structures, and flagship parks. The project was funded by the Federal Works Progress Administration."[1]
Prudence Crowther, a well-known journalist, writes:
In 1935, Juliana Force, the director of the Whitney Museum and organizer of the first Federal Art Program in New York, introduced Saalburg's work to the parks commissioner, Robert Moses, who put him in charge of the WPA mural projects for the entire parks department. Projects included the Old Stone House at Gowanus in Brooklyn, the Arsenal in Central Park (where Moses had his office), the barroom of the newly created Tavern on the Green, and the terrace restaurant at the zoo.[2]
"Allen Saalburg, a painter and silk-screen artist who headed a murals project of the Works Progress Administration during the 1930's in New York City, died of pneumonia and complications resulting from a stroke, in Flemington, N.J., Saturday. He was 88 years old and lived in Uhlerstown, Pa. Mr. Saalburg directed a staff of artists who did historical and whimsical murals that adorned the Zoo, the Arsenal and several other buildings in Central Park, as well as in Pelham Bay and other city parks."[3]
References:
Central Park Arsenal History, NY Department of Parks Website.
Allen Saalburg entry in askART.com.
Allen Saalburg Obituary, New York Times, July 28, 1987.