Construction laborers, Riverside Park, May 16, 1934. Photo:
New York City Department of Parks and Recreation
.
"Described in the Parks Department's photographer's journal as a 'colored gang,' this group of black laborers is shown laying foundation stones in the shallow river bed that was to become part of the Riverside Park expansion. One of the largest public improvements to ever take place in New York City, this massive project decked over the New York Central Railroad, doubled the park's acreage, and added the scenic Henry Hudson Parkway along its perimeter. Financed by the Federal Works Progress Administration (WPA), the workforce numbered in the many thousands. Notice the harmonica player at center who tries to maintain the work crew's spirits in the face of their daunting task." (Parks Department text)
In the background, far left, Grant's Tomb. The tall building to its right is Riverside Church. Then apartment buildings along Riverside Drive from 120th Street to 116th Street. The workers are laying down stones taken from the railroad bed to stabilize the river bank. This photo was taken very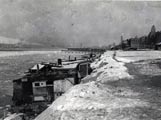 Riverside Park Hooverville, 1933. Click to enlarge.
close to the doomed Columbia University Yacht Club at 113th Street. The steeply terraced park was about to be totally reconstructed into two relatively flat area separated by a high stone retaining wall, with the NYCRR tracks beneath the high part.
"The fifty-two shacks comprising the veterans' camp between 72nd Street and 79th Street, between Riverside Drive and the Hudson River [inset photo] will be torn down on May the first. Provision has been made for the Department of Public Welfare to transfer these men to a farm at Greycourt. There are eighty-three other shacks along Riverside Drive on the Hudson River, housing over one hundred men, which will be torn down at the same time that the Hudson River Yacht Club and the Columbia Yacht Club will be demolished." —NYC Parks Dept press release of April 27, 1934.
---