Misc Virginia PWA Projects - Photo #5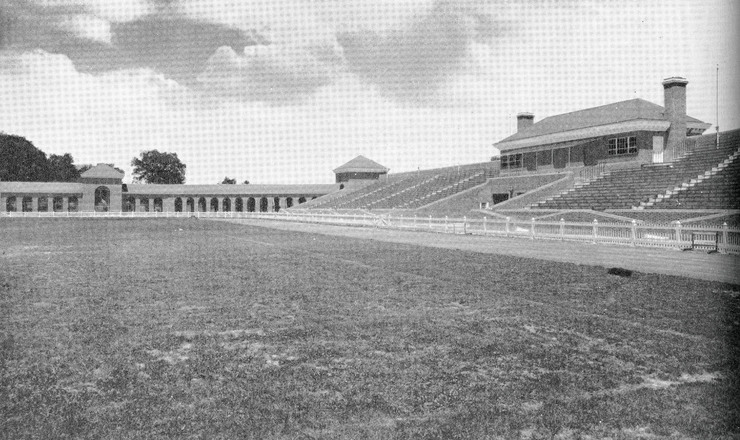 William and Mary College Stadium, Williamsburg, Virginia. Completed January 1936. "The College of William and Mary, with the aid of the P.W.A., made several much-needed additions to its plant, among which was the stadium. The original plans called for a students' activity building as well, but investigation of the proposed site showed that this was not feasible on account of soil conditions. The site of the stadium was changed to a much better location but this meant an increast in the cost of the structure. Two bleacher sections, each approximately 360 by 60 feet, with field rooms and locker rooms underneath, flank the football field on the east and west sides and are connected on the north end by covered arcaded corridors. The bleachers seat 10,000 spectators. The construction is reinforced concrete with all exterior walls faced with red brick of the type used throughout the college. The project was completed in January 1936 at a construction cost of $185,585 and a project cost of $196,085."[1]
References
Short, C.W., and R. Stanley Brown, Public Buildings, A Survey of Architecture of Projects Constructed by Federal and Other Governmental Bodies between the Years 1933 and 1939 with the Assistance of the Public Works Administration, United States Government Printing Office, Washington (1939), page 296.
Public Works Administration Dockets for Virginia 1934-1939, 3 January 1940: Docket Number 1930.
---
Photos from C.W. Short, U.S. Federal Works Agency Public Buildings (1939).