The Central Park Zoo
. In 1934, the original Central Park Menagerie, which was just wooden sheds and some cages, was torn down and replaced by nine brick and concrete buildings and with landscaping and seal pool, designed by CWA-paid Parks Department architects [6] [7] [10,p.352] [13], the materials paid for by the CWA [2,pp.383-385], and the labor also[3]. The Zoo was renovated in the 1980s;
this page
shows the the original parts that still remain, including two buildings and the
Dancing Goat
and
Dancing Bear
statues by Frederick Roth[8], plus limestone animal friezes along the top of each building (e.g. monkeys on the monkey house), also by Frederick Roth.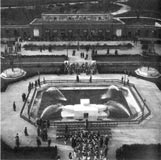 Central Park Zoo Opening Day, December 2, 1934. Photo: [1,p.450].
The Gift Shop, pictured above, is one of the few 1934 buildings that survives after the entire zoo was rebuilt in 1988. This was the design of all the buildings: brick topped by a limestone frieze showing what to find inside the building (in this case birds — click the Enlarge button to see), with a slate roof and an ornate chimney.
References: