Maximize your browser to see the image full size.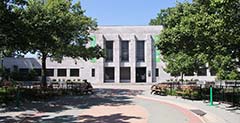 Oval Park Recreation Center - click to enlarge
Oval Park
, Norwood, Bronx, New York City, winter 2012. Its formal name is Williamsbridge Oval Playground. Originally the site of Gun Hill Williamsbridge Reservoir, constructed in 1884-89, that supplied drinking water until 1919 and then served as a
swimming hole
until it was drained in 1925. It was
converted
into a park and playground in 1934-37 in a 1.5 millon-dollar
New Deal
Works Progress Administration
(WPA) project, opening on September 11, 1937, with renovations since then, most recently in 2010-2013. It includes
playgrounds for children
,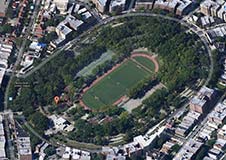 Google aerial view - click to enlarge
a field for
football
and
soccer
games,
basketball courts
,
tennis courts
, a
400-meter running track
, wading pools and sprinklers, dog runs, picnic areas, benches; trees, grass, flowers, and foliage; elevated promenades around the perimeter, and a
recreation center
with a gym, game room, computer room, and public restrooms. It is also the site of
school outings
,
cultural events
,
concerts
,
dance festivals
,
picnics
,
celebrations
, and just hanging out; it is perhaps the most heavily (and well) used public space in the Bronx. The fenced off area at lower left in the top photo was part of a
renovation project completed in November 2013
. In the background:
Montefiore Medical Center
buildings. See lots more pictures of Oval Park in
this same gallery you are looking at
(the park is more beautiful in the Spring, Summer, and Fall, but then you can't get a panoramic view because of the foliage;
see image at bottom
).
Click below to view a gallery of photos from 1890 to 1945...
References:
FDR's New Deal designed, constructed, and/or paid for a great many Bronx landmarks besides Oval Park, including the Triborough Bridge, the Bronx-Whitestone Bridge, Orchard Beach, the Bronx County Courthouse, much of what is now Lehman College, the Maritime College campus at Fort Schuyler, Van Cortlandt Stadium, the Crotona Park, pool, and bathhouse, the Bronx General Post Office, plus many neighborhood post offices and numerous schools, parks, playgrounds, murals, mosaics, sculptures, infrastructure improvements, surveys, and on and on.
CLICK HERE
for a partial list and
HERE
for a gallery.
Oval Park panorama in Spring 2014