Entrance to
Lehman College
of the City University of New York (CUNY) on Goulden Avenue, June 2014. Today's Lehman College campus was originally the Bronx campus of
Hunter College
(both are part of New York's City University system). Lehman's
Historic Campus
page[1] states that the "the first four buildings in the plan—Gillet and Davis halls, the Music Building, and the Gymnasium—were completed in 1931 by the New York State Works Progress Administration"[1]. If you look up the history of this campus, almost every source you'll find contains words to this effect, but the fact is that the campus and its four original buildings (Gillet, the Gymnasium, Student Hall which is now called Music Hall, and Davis Hall) were built
before the WPA even existed
[2,10].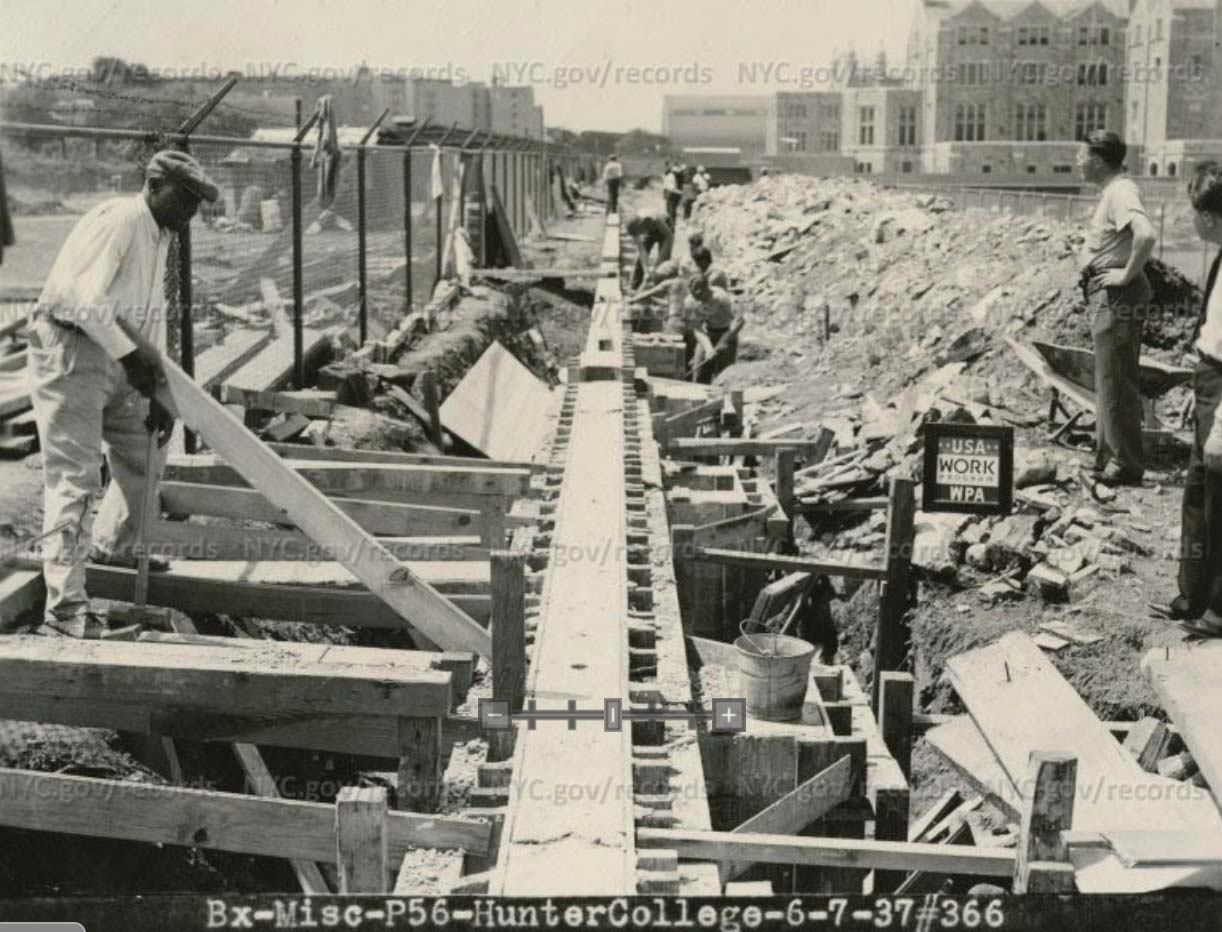 The New Deal contribution came when the WPA was formed in 1935, and consisted of "general alterations to existing buildings. Completion of north athletic field. Construction and reconstruction of roadways, service lines and sidewalk. Erection of an ornamental iron fence and gateway and completion of foundation wall. Landscaping thirty-one acres. Erection of flagpole and waterproofing of underground connecting tunnels."[20]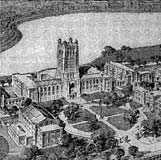 A fifth building, the Administrative Building, was planned (image at right, building with tower). A proposal to the Federal Public Works Administration (PWA) was approved in 1935[14] but the building was never built. Meanwhile, as noted in some of the Times articles below, state- and/or city-level forms of work relief were used in the earlier ground-clearing and construction; these might be attributed to the administration of New York State Governor Franklin D. Roosevelt, but so far no clear direct evidence has been found. Yet given the prevailing conditions and the establishment of FDR's Temporary Emergency Relief Administration (TERA) in 1931 and early federal New Deal programs such as FERA and CWA in 1933-34, it's hard to believe that the New Deal (especially if you accept that it really started in 1931 with TERA in New York) was not also providing labor for the construction of the buildings.
Thanks to Mason Williams, author of City of Ambition, for help with this site and for the WPA image above left. Click to magnify it; you can see the Hunter gothic-look buildings and the WPA sign.
References
A lot of New York Times articles from 1929-1937 are cited, mainly to show the chain of events and the involvement of relief labor in various phases of campus construction. The most important references are 15-21.