NYC New Deal Map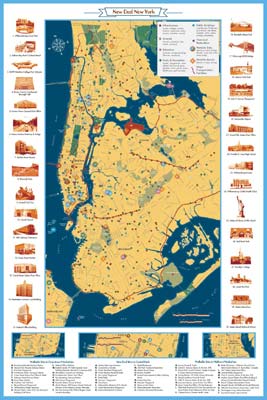 The New Deal in New York City 1933-1943
Frank da Cruz
Bronx NY
August 2015
Most recent update:
Mon Dec 17 07:42:55 2018
The
New Deal
was a federal program during the Franklin D. Roosevelt administration that (among other things) put millions of unemployed people to work creating public works to improve the lives of ordinary people.
Read more in the Text resources.
New York City New Deal site search:
When I moved to the Bronx in 2012
I quickly realized I was
surrounded by New Deal projects
on every side, and I started to photograph them and put the photos on a single web page (
New Deal Projects in the Bronx
). Before long the scope of the project expanded to the extent that it needed a front page like this one to organize all the pieces. I believe
it is important that in these times of unprecedented economic disparity and destruction of the working and middle classes that everybody in the USA should know the history of the New Deal because ANOTHER New Deal is exactly what we need today
.
Click on the following images
and see what what was accomplished in just one city (and a few other places) in the 1930s and early 40s when the government put ordinary people first...
Like the song says
! (
Read more
)
Acknowledgments:
Thanks to Peter da Cruz for his collaboration on the Van Cortlandt Park gallery; to
Aleida Morel
for making the June 26, 2016, photos possible: Bronx-Whitestone Bridge, Ferry Point Park, Francis Lewis Park, Astoria Park and Pool, and the Queens end of the Triborough Bridge; to Gray Brechin and Richard Walker of the
Living New Deal
for making the May 2017 Pelham Bay / Split Rock photos possible; and most recently to Pam Ives for her collaboration on the November 2018 New Mexico New Deal gallery.
Photo galleries
New Deal projects in New Mexico
(November 2018 - side trip to a state that honors its New Deal heritage rather than suppressing it... 25 sites)
Jackie Robinson Park and Play Center, Harlem
(August 2018)
Brooklyn Navy Yard
(June 2018, updated July 21)
Bryant Park - Manhattan
(May 2018)
Hillside Homes - Bronx
(April 2018)
New Deal sites around Washington Square
(April 2018) - 9 sites
New Deal Schools in the Bronx
(March 2018)
Oval Park Bronx 80th Anniversary
(September 2017)
New Deal Projects in the Bronx
(plus a few in Queens, 58 sites; Latest: July 21, 2018)
Van Cortlandt Park New Deal Tour
(Bronx) - 7 sites
Kingsbridge Heights New Deal Tour
(Bronx) - 7 sites
Central Park New Deal Tour
(Manhattan) - 14 sites
Riverside Park New Deal Tour
(Manhattan) - 12 sites
Randall's Island New Deal Projects
(Borough of Manhattan) - The Island itself and ex-Municipal Stadium
Working New Neal
(New York City) - People who have work today thanks to the New Deal
Notable New Deal Projects in New York City
- 40 of the best-known NYC features that nobody knows are New Deal creations
The New Deal in Virginia
(2017) - 18 projects in Hampton and Newport News (and more)
America Fights the Depression
(photos from 1934 book, new 2017)
Robert Moses and the Modern City
(photos from 2007 book)
Popular Music of the Depression and New Deal
(July 2017)